Lamborghini Service And Repair
Auto Repair, Maintenance, And High Performance Work For Your Lamborghini In Plano, TX
Not just anyone gets to own and drive a Lamborghini. It takes a special person to make it to the point in life where you can own an exotic Italian supercar. You take pride in your car. It needs to always look and perform at its best. We want to be your partner in keeping your Lamborghini in showroom perfect condition.
The automotive technicians at EurAuto respect you and your car. You can trust that it will be taken care of with the highest level of integrity. No joy rides or abusive driving. That's for you to do, not us. We'll only make high quality, precision repairs and performance upgrades that will keep you looking great and enjoying the drive.
Lamborghini Maintenance Services
Most supercars don't rack up a lot of miles. For this reason, the maintenance schedule of a Lamborghini is as much dependent upon time as it is mileage.
The specific maintenance items and time intervals will be dependent on the year and model of your Lamborghini. Below is an example maintenance schedule for a Lamborghini Huricán.
Schedule Your Lamborghini For Repairs, Maintenance, Or Performance Upgrades At Our Plano, TX Auto Repair Shop
We invite you to come in and meet the team and tour the EurAuto shop. To schedule a tour or to make a service appointment, call us at 214-552-4194 or use our online scheduling tool.
Oil and filter change (to be done at least annually)

Complete multi-point inspection

Diagnostic test for trouble codes
Oil and filter change

Coolant flush

Spark plug replacement

Engine air filter

Cabin air filter

Complete multi-point inspection

Diagnostic test for trouble codes
Oil and filter change

Gearbox oil change

Complete multi-point inspection

Diagnostic test for trouble codes
All parts and fluids used, and all maintenance services performed, meet or exceed manufacturer standards and will uphold the manufacturer's warranty per the Magnuson Moss Warranty Act of 1975.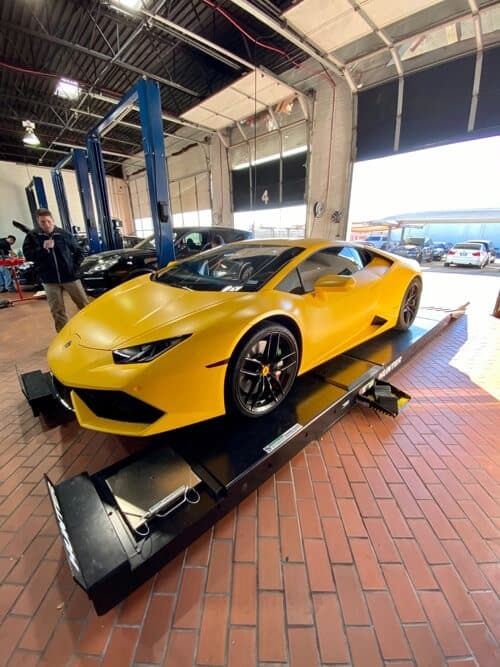 Lamborghini High Performance Work
Why would we take one of the fastest cars in the world and make it even faster? Because we can! Those who have a need for speed understand, and we join them in their enthusiasm.
We can do almost any high performance upgrades to your Lamborghini, including:
Performance tunes

Exhaust system upgrades

Braking upgrades

Race suspension

Central locking kits

Air vents and wings

And more!
A Lamborghini is already the dream car of many. You've already realized the dream of owning one. Now let us make it into the Lamborghini of your dreams!
Auto Repair Services For Lamborghini
The mechanics at EurAuto are true craftsmen; experts in their field. They take pride in performing repairs to an exact standard. There is something that pulls that desire even more out in a technician when he is working on an exotic car.
At EurAuto, we're a true dealership alternative for Lamborghini cars and SUVs. We can do all levels of repairs, including diagnostics and programming.
Whether diagnosing a check engine light or driveability problem, replacing a clutch, or completing simple repairs like fixing broken sway bar mounts – you can trust that your Lamborghini will be getting the best in auto repair at EurAuto!
"Jeff and Mike were fantastic. I don't use shops a great deal, but they came highly recommended and did NOT disappoint! The shop is super clean and Jeff was great with timely and detailed updates. The inspection report with pics and video was outstanding. They will be doing all my work moving forward."
"First time using a shop in a while and trusting them with my vehicle. Mostly do the work myself on my previous bmws. 2013 BMW 328i came in for an oil change and an alignment. The gentlemen at EurAuto took care of me like I was one of their own! They were professional and knowledgeable and priced fairly. Will use them for work on my BMW in the future! Best, Jay"
"A very streamlined and through approach to owning a BMW. The staff was very friendly and my vehicle was diagnosed and quickly repaired. The photo system used to explain the issues and online payment were seamless. I will be back for my regulars maintenance also, as this shop is very competitively priced. Thanks EurAuto!"
"Great customer service! Excellent communication and speedy service! Oh and my car drives better now than when I bought it! Can't ask for more"
"I am glad that these guys are in business. My first time using them was for a transmission repair on my 2012 BMW 740i which was expensive so I'm glad I found a reputable shop who is knowledgeable to do the job well. They have earned my business for the years to come. Thank you guys."