Tires, Tire Pressure Monitoring, Tire Balancing, and Alignments in Plano, TX
European cars, especially high-performance and exotics, need special attention when it comes to tires. Even the base models of most of the cars we work on are pretty fast. When you have the ability to drive fast, your tires need to be up to the challenge.
At EurAuto, we take tires seriously. Sure, we can install the same tires that your car came with originally when it comes time for new tires. In most cases, we do just that. But we always work with our clients to make sure they get the RIGHT tire:
Right for their driving style
Right for their budget
Right for the driving conditions (snow, heat, highway, around town)
Right for the car
There are nearly endless options available when it comes to tires. At EurAuto, we're here to help you through the tire buying maze and make getting new tires an easy, pleasurable experience.
At highway speeds your tires are turning REALLY fast. No matter the brand or quality of tire, it's going to take a little weight in the exact, precise spot to keep vibrations under check.
We've invested in the best tire balancing equipment by Hunter Engineering to make sure your luxury vehicle has a luxury ride. We can balance tires on wheels up to 26" in diameter.
If you're feeling some vibration while driving at highway speeds, you likely have a tire out of balance. If this gets bad enough it can actually cause damage (cupping) to your tires. Schedule an appointment to have your tires balanced and get back that smooth ride you deserve.
Tire Pressure Monitoring (TPMS)
It seems like one of the most often ignored dash lights is the tire pressure monitoring light. But why? When your TPMS system is working properly it can save you from the very inconvenient and dangerous situation of being stuck on the side of the road with a flat tire.
TPMS is a relatively simple system and at EurAuto we have the knowledge and programming equipment to get that pesky light turned off and this valuable warning system working correctly again.
When it comes to European cars and alignments, an alignment isn't just an alignment. Euro cars are high-tech. They have sensors all over, including the suspension and steering. An alignment done wrong can cause your dash to light up like a Christmas tree with malfunction indicator lamps.
For many Euro cars, special tools beyond the basics that come with the alignment machine are needed. For example, to properly align a Mercedes you must have a Romess Inclinometer. This tool precisely measures the ride height to make sure the vehicle is in the exact position it needs to be in for caster, camber, and toe adjustments to be made. We have this tool.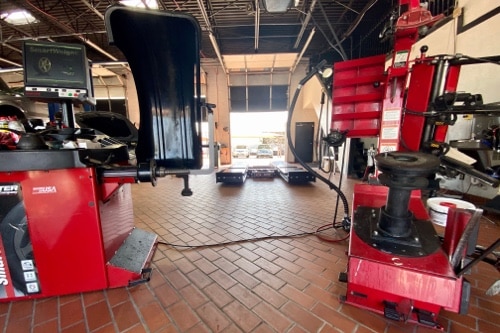 Schedule Your Vehicle For Tire And Alignment Services
If you're in the Plano area and need tires or an alignment on your European vehicle, make an appointment by calling us at 214-552-4194 or using our online scheduling form. We'll have you driving safe, smooth, and straight in no time!
"Jeff and Mike were fantastic. I don't use shops a great deal, but they came highly recommended and did NOT disappoint! The shop is super clean and Jeff was great with timely and detailed updates. The inspection report with pics and video was outstanding. They will be doing all my work moving forward."
"First time using a shop in a while and trusting them with my vehicle. Mostly do the work myself on my previous bmws. 2013 BMW 328i came in for an oil change and an alignment. The gentlemen at EurAuto took care of me like I was one of their own! They were professional and knowledgeable and priced fairly. Will use them for work on my BMW in the future! Best, Jay"
"A very streamlined and through approach to owning a BMW. The staff was very friendly and my vehicle was diagnosed and quickly repaired. The photo system used to explain the issues and online payment were seamless. I will be back for my regulars maintenance also, as this shop is very competitively priced. Thanks EurAuto!"
"Great customer service! Excellent communication and speedy service! Oh and my car drives better now than when I bought it! Can't ask for more"
"I am glad that these guys are in business. My first time using them was for a transmission repair on my 2012 BMW 740i which was expensive so I'm glad I found a reputable shop who is knowledgeable to do the job well. They have earned my business for the years to come. Thank you guys."